Palm Pools & Spas Reviews
Swimming Pools In Castle Hill 2154
About Us
Concrete pools are for those that do not want to settle for a standard shape pool. Whatever size or shape you want, you can fully customise your pool into something unique with your imagination being the only limit.
The best thing of all is that we build our concrete pools to last. Build with us and you and your family can enjoy your pool for many years to come.
Concrete Pool Installation Options For Your Home
Is your block narrow or sloping? Well that should be no problem at all as a concrete pool provides flexibility in installation. We have built many concrete pools in areas where a fiberglass pool was not a viable option.
Do you have a huge block? Then let us help you design your own outdoor paradise with no limits, with such extra features available as:
Cascading waterfalls
Fountains
Statues
Ponds
Whatever you want, our landscapers will integrate your concrete pool into your property seamlessly to create an amazing centrepiece for your backyard, all using environmentally friendly construction techniques.
Palm Pools and Spas will help you in every step of the way in building your ideal swimming pool and spas.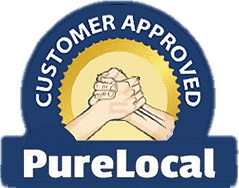 'Palm Pools & Spas Reviews' reviews and testimonials are published on the PureLocal Business Directory following verification and manual screening. Do not post a review if you've received a reward or are associated with the owner. Directory members who receive an unfavourable review are given the opportunity to respond prior to final publication. If applicable ,
click here
to post your review.
Our Business Location
Related Categories
Don't be fooled
Our pool experience with this company has been nothing but a horrific nightmare, The sales manger came to our home , with his great sales talk convincing us that we were going to get a pool that we had been dreaming off , Little did we know we were heading a never ending nightmare, empty promises, never answering our emails or phone calls only when we got the tribunal involved we would get some short nonsense response. 3years on from signing our contract with them we got our pool finished, but not with them . It cost us another $80.000 to finish our pool on our own , we had to rip out the mess they left us with , having to buy new tiles , pavers a pump and etc !! . We were fooled big time by this disgusting company , if only we New earlier that this same company closed down their previous pool company 3 months prior us signing our contracts, It was shocking to see how many families that have been effected by this company. Don't trust them!!! - Review Posted By Grace On Wednesday, Aug 14, 2019.
Review Verified Wednesday, Aug 14, 2019
Palm pools and spas
My pool is half finished but 90% paid for. He did not provide a safety fence, he did not have insurance, he charged for removing soil and then did not discount when I decided to keep. Red does not return calls, texts, emails. Their site at castle hill is vacant, their Van is abandoned in Packard ave,. Their ABN number links them to Luxe Homes, Luxe homes has an address of 74 Mcevoy st Alexandria, this site is a gym with an accounting firm up above, the single director of palm pools is Mitchell Awadallah, the son of RED. Address is given as Boundary rd blacktown (road does not exist). They will be closed down soon and I believe there is a strong chance he will be deported back to the middle east. . Palm Pools does not exist. I think he owes some bad people money......... - Review Posted By Glenn Davis On Wednesday, Jun 26, 2019.
Review Verified Wednesday, Jun 26, 2019
Traps and lies
They'll promise you the world to get you to sign their contract, but once signed with them, our experience was an absolute nightmare. The work was constantly delayed. On top of that, communication and customer service was nothing short of abysmal. This got to a point where we got fed up and terminated the contract. However, the grief doesn't stop at termination. We were charged a 20% cancellation fee that was hidden in the fine print, drafted out in complex legal terms. This was not pointed out to us during negotiation. So even though they did no work whatsoever on our pool, we ended up having to pay over $10,000 to this nasty excuse of a pool building business. Please be warned, and don't be ripped off by them like we did!! Feel free to contact me for more details about our experience. - Review Posted By Horrified Customer On Monday, Mar 11, 2019.
Review Verified Monday, Mar 11, 2019
Shocking company
Don't use this company, do your research! Unfortunately we didn't do our research and we're sold on the whole family business spiel.. 11 months later and we have a concrete hole in the ground that is nothing like what we wanted. They never return phone calls or emails. We are now getting someone else to finish our pool because we haven't heard from these guys in 5 months! Ask around, everyone in the business knows about these guys. Run as fast as you can, don't end up like us - out of pocket and nothing to show for it but heartache! - Review Posted By Solenia Cioppa On Monday, Feb 25, 2019.
Review Verified Monday, Feb 25, 2019
Palm Pools & Spas Reviews Review
Contact Palm Pools & Spas Reviews