CBD Movers Brisbane
Removalists In Brisbane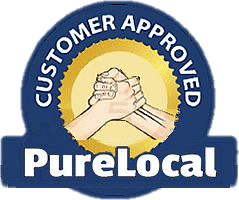 About Us
Relocation is not a easy job, you need help from the professionals to make the move successful. CBD Movers Brisbane is the first choice of local customers looking for removal services in budget rates. Backed by team of highly skilled removalists, we have the reputation of the most trusted moving company
The Art Of Moving
CBD Movers Brisbane is a Satisfied Customers Program (SCP) member. Positive reviews , complaints and testimonials will be published on the business directory following verification (QLD180117). Do not post a review if you've received a reward or are associated with the owner.

PureLocal Directory members who receive an unfavourable review are given the opportunity to respond to the customer before it is published. We know that slanderous and unfounded reviews are common place on the web so we have allowed "CBD Movers Brisbane" the tools to arbitrate and contact the customer in order to resolve outstanding complaints or disputes. We have found that this achieves a far better outcome for both the reviewed business and their customer in the longterm. Fake endorsements , illegal and/or defamatory content is not published.
CBD Movers Brisbane

If you require more information please phone 04 3463 0828 or visit our website. All profile related content remains the sole property of CBD Movers Brisbane.
Related Categories
Removalists In Australia
Removalists In Queensland
Removalists In Brisbane
Professional Services in Brisbane
Professional Services In Australia
Verified Companies In Brisbane
Verified Companies In Queensland
Avoid at all costs
Avoid at all costs. Initially enquired to move a one bedroom unit, 15 minutes between new and old locations, and explained there would be bedroom furniture, plus a kitchen, laundry, lounge and some outdoor furniture. Quoted $85 an hour, great. Called about a week later to confirm date and advise of a second pick up location five minutes from the first to get another bed and dryer, confirmed if truck size etc would be the same, advised it would. Verbal quote increased to $95 an hour. I queried, was told someone else quoted me originally and they would have him call me to confirm. Didn't hear anything, eventually contacted again and advised that if I didn't get a confirmed quote I would use a different company. Was then confirmed within the hour - I should've known better then. Fast forward to moving day, I was booked for a 9am-12pm start window. At about 9.50 I got a call that the truck had a flat tyre and would not arrive until 12.30-1.30. Not ideal. 12.30 two guys arrive and meander up to the unit like they had all the time in the world. Speaking to each other entirely in their own language which was quite uncomfortable as I wasn't sure what was happening. I asked a couple of logistical questions and just got nods in response, not necessarily to yes or no questions either. I'm now quite nervous but show them the boxes and indicate that all the furniture plus the boxes to be moved. About an hour and a half later they tell me they're done - fridge, washing machine, outdoor table and chairs all still in the apartment. They seemed surprised that I wanted these moved. Then they tell me that if I want those items moved the second location items won't fit. In a 4.5t truck they can't fit what is essentially a two bedroom house. They want to do two trips at substantially longer time, despite having already taken over two hours to do a one bedroom unit. I have photos of the poorly packed truck, the marks all over the walls, the appalling way my furniture was left - bed base upended in the middle of the room, boxes upside down when labelled fragile, items that are obviously heavy and not able to be moved by myself after they leave left in the middle of the main bedroom, water sprayed all over my kitchen bench and floor from filling up water bottles, furniture leaning against and damaging blinds, the list goes on. Absolute disgrace. These people clearly have never been trained in any way. Company then offered me $5 an hour off and then a half hour discount when I rejected that. Threatened to not unload my furniture which, frankly, would've been less damaging than letting them do it and insisted on taking payment prior to completion. Still have the items from the second location uncollected as I refused to pay an additional two hours. Customer service on the phone was abysmal, sarcastic and ultimately useless. I didn't even realise the state my brand new home had been left in until they had left and if I had, absolutely would not have paid the amount I did. Could not recommend these people less if I tried. - Review Posted By Jordan On Saturday, Nov 14, 2020.
Review Verified Saturday, Nov 14, 2020
Very unhappy
My elderly mother used this service I was there to witness their poor customer service, they broke furniture they were very slow they were very expensive. They have not responded to emails about the broken furniture. very rude staff. They spoke in their own native language, even after my mother asked them to talk in English so she could talk to them. Staff ignored her and continue to talk in their own language they were very slow the slowest removalist I have ever seen. - Review Posted By Trish On Thursday, Nov 12, 2020.
Review Verified Thursday, Nov 12, 2020
DO NOT USE THIS COMPANY
Only giving one star as I can not give less. Have never been treated so poorly by a company! Absolutely appalling service. Truck didn't show up at all, no correspondence from company to advise. When finally getting in touch with someone they advised that truck was delayed and wouldn't be able to come until possibly late that afternoon. The next truck showed up but drivers refused to take TVs in the truck as "any damage would come out of their pays' which was the opposite of what was advised over the phone by the removalist company - thew whole reason we went with this company in the first place. Much the same as another review, the person who made the booking had disappeared and was no longer working for the company after the date of booking. The two Indian drivers then jumped in their truck and took off without saying anything, taking out a metal pole out the front of the house. When advising the removalist company, they did not care and only advised that there are no other trucks today and that they could try and get another truck out the following day. The level of professionalism shown by all staff members I spoke to was appalling.Van Nguyen - Review Posted By Kimberly On Wednesday, Oct 14, 2020.
Review Verified Wednesday, Oct 14, 2020
Disgusted
Was told they would come at 8am (between 7.00-9.00 was the window frame). I had booked out a key for the lift to my apartment. They did not turn up until 1.00pm, when the lift was unable to be used by movers due to the body corp laws. They then said they would return at 2.00pm (they had no other jobs). They returned at 2.30pm. The were very slender men with no common sense. Took so long to pack everything up. I called to speak with customer service and they are also appalling. I was told they would call me back on multiple occasions and they did not. I said I would not be paying full price-they wouldn't accept that. Told me I had to write an email to complain and get a refund. I have never had suck bad service in my life! - Review Posted By Samantha Milton On Wednesday, Oct 07, 2020.
Review Verified Wednesday, Oct 07, 2020
Total scam!!!
CBD Movers is a scam. Simple as that. They spread fake 5 star reviews and advertise low prices to trick people into booking with them, then they do absolutely appalling quality work (including damaging multiple items of ours that they moved) and hold your property ransom until you pay more than they quoted. Consider yourself lucky if they don't damage your house too. Don't use CBD Movers ever! - Review Posted By Roger Reilly On Tuesday, Apr 07, 2020.
Review Verified Tuesday, Apr 07, 2020
Do not use
The workers will not take due care with your things. They will damage, mark and dent your items and then claim they did nothing wrong. They did not bring a big enough truck and went to leave without a number of vital things - fridge, washer, dryer, my sons entire room! I had to go back with a friend to collect the washer and dryer. I have damaged items and marked door frames and have basically been told too bad. 100% of customers are NOT happy - Review Posted By Deborah On Tuesday, Feb 11, 2020.
Review Verified Tuesday, Feb 11, 2020
Never again!
I experienced terrible service on the Gold Coast and it's made me shy of ever hiring a moving company again. The booking lady asked what I had in my house, told me what truck I needed and that it would take 40 mins to load. She was wrong on both accounts. It took them 2.5 hours to load a 2 bedroom, tiny duplex. One of the movers removes boxes (1 by 1, no trolley) while the other stays in the truck and packs them. Then every 5 minutes they both stop and talk about how to load the truck for 5 minutes. I even started helping them move the boxes out to the truck to hurry it up. At the end of one trip I told them to stop as I had run out of money and time. Of course they had left some of the larger items behind - I assume this was to discourage me from stopping the job. It was quoted as taking 2.5 hours at $285, I stopped them after about 5 hours and it cost me $522 - and they were only halfway finished! I was going to just let it go and not bother to write a review. But in a twist of fate, my neighbour at my new place booked them for her move-out. She had exactly the same experience but worse! It cost her a lot more money and damage. - Review Posted By Vanessa On Wednesday, Jan 01, 2020.
Review Verified Wednesday, Jan 01, 2020
Avoid
1 bedroom move, movers arrive and start moving at 9.40am, I noted time because they charge 30 minute increments. I had most things in boxes, but really wasn't allot to move, first box the guy lifts from the top... not supporting at the bottom... ofcourse the box breaks (my fault though according to company... despite moving it twice before them without issue). Things going fine, 1 mover spending time on phone or texting while I help out. Everything gets put in no further issues. Get to my new apartment, which required us to walk it from loading dock to a lift, then go up 23 levels, and to my apartment. While not ideal needed to be done, 1 trolley isn't good enough, but we all pitched in. First 2 loads at the lift, I took it up put it in apartment myself, went down loaded up again, into apartment, got to loading dock and both movers in truck... nothing moved, 1 on phone.... how can I possibly unload a lift full and get to truck before something is being moved... (according to management I should of contacted them now mid move on the clock to complain...) yeah right. Everything finally inside, clock off 12.10. Awesome 2 hours 30 plus 30 minute exit fee... the quote was so confusing and no paperwork the 2 movers hand me the card reader and blurt out a price. Once settled I reviewed, to find they charged me 3 hours 30. When questioned the company asked me to prove... ummm ok... should I have taken a photo time stamped... maybe your GPS would have it... but won't look at that, rather call the client a liar. 1 bedside table and a helmet were broken in move, I was blamed for this due to loose items and boxes they broke... so they obviously knew they would damage but didn't advise me as the professionals... Once again I moved it myself earlier without issue... It took 2 weeks of following up 4 Phone calls and 2 emails to get the answer of prove it, and your fault.... great customer service. AVOID AVOID AVOID - Review Posted By Mitchell On Thursday, Sep 26, 2019.
Review Verified Thursday, Sep 26, 2019